Recordation of Historic Architecture, Engineering and Landscapes
FAQ
HABS | HAER | HALS | CEQA-HABS-Like
Photography & Mitigation Frequently Asked Questions.
Film? Really?
Yes, the Historic American Buildings Survey (HABS) Historic American Engineering Record (HAER) and Historic American Landscapes Survey (HALS) all require documentation to be done on large format, black and white film. Digital capture does not meet the requirements no matter how much resolution. Many other documentation and mitigation parameters for environmental or historic preservation like CEQA, NEPA and Section 106 are based upon HABS standards and as such, they must also be recorded on archival, large format film to comply with the intent of the mitigation/recordation and meet the Secretary of the Interior's Standards for Architectural and Engineering Documentation.
No Color?
Nope, HABS, HAER and HALS all require documentation to be done in black & white. Black & white silver-halide film on a polyester base is archival and resists fading for over 500 years. Color film is composed of dyes and starts to decay and fade much faster. Some resources that have colorful components and many landscape documentations (HALS) include views captured in both black and white and on color transparency film. Additionally color film and digital images of the resource are often included in the field-notes and do not need to adhere to such stringent archival standards.
What is the definition of Large Format photography?
In the case of photographic surveys, large format is defined as: Photography using sheet films in the size 4 inch X 5 inch or 5 inch X 7 inch or 8 inch X 10 inch. The National Park Service Heritage Documentation Program (HDP) photographers in DC primarily use 5x7 film and this has been the preferred format for the HABS/HAER/HALS collection since its inception in the 1930s. Very important resources like the Golden Gate Bridge, the Holland Tunnel, the Statue of Liberty and The Ahwahnee Hotel in Yosemite National Park deserve 5x7 recordation and that is why we have invested in 5x7 as our primary format (along with 4x5 & 8x10). Aerials are almost always done on 4x5 cameras because they can be hand-held in aircraft. 8x10 cameras are generally too cumbersome for the fast-paced field-work but are often used for studio copy-views of photos, blueprints and maps.
When is Large Format recordation required?
Large Format photography is the only designated standard for documentations required under the National Historic Preservation Act of 1966, (Section 110b) to mitigate adverse impacts to historic resources through alteration or demolition. These mitigations comply with environmental policies like NEPA, Section 106 and have been used as de facto state requirements for other regulations like the California Environmental Quality Act (CEQA). If historic resources are impacted by new projects, demolition or alteration, there may be a requirement to document the building, landscape, bridge, etc. The type and scope of the documentation comes down to SIGNIFICANCE. If the building is significant enough to trigger a mitigation requirement, then there is a high likelihood that large format photography will be stipulated as one of the mitigations. If the building is not significant, then it may not require documentation and 35mm or digital photos may suffice for local review. The National Register of Historic Places (NRHP) has less stringent specifications so NRHP nominations can be photographed in digital or 35mm film.
What's required for a credible documentary mitigation?
3 THINGS!
Effectual documentary mitigations have three core components:
MAX DATA, ARCHIVAL MATERIALS, & ACCESSIBILITY. 1.) The photography must include maximum, accurate data; that is why large format cameras are used to capture extreme detail with perspective correcting lenses. 2.) The film, prints, report, captions and notes must all be created on archival materials, and the photos shall be processed to exacting standards to insure archival life-spans of 500+ years. 3.) The photos and report must be accessible to the public to be a public benefit. Available to provide architects, engineers, scholars, preservationists, and interested members of the public with information on the historical, technological, and cultural significance of America's historic resources.
The best case (the only one meeting federal stipulations) is donation of the photographs, report and/or drawings to the HABS/HAER/HALS collection at the Library of Congress. If a lesser repository is selected for a mitigation project, it is imperative that copies of the documentation go to local and regional museums and repositories and are made accessible to the public and do not just end up on a shelf in a storeroom at the back of city hall.
What is HABS-like, HAER-like and HALS-like documentation?

Besides made-up terms, these informal parameters are an attempt to capture the goals and quality of official HABS/HAER/HALS documentations without ALL of the requirements. There is no formal definition for HABS-like, but in our experience it usually means that HABS guidelines for form and content are followed closely but the finished documents (prints and negatives) are not submitted to the Library of Congress, but instead are distributed locally and/or regionally. Most of the documentary surveys in California triggered by CEQA, are HABS-like (or HABS-lite, or Diet-HABS) but it is important to note that while they may be state sanctioned they are not recognized as sufficient as mitigations for federal projects. In state or local HABS-like documents, it is important to adhere to the "3 Things" above and make copies of the report available to the public.
How many photos do you need for a HABS/HAER/HALS?
Complex question. Again, it comes down to SIGNIFICANCE. If the building is a detached garage in a historic district, three views may be sufficient. If that garage is the "HP Garage" birthplace of the Silicon Valley, then it would need more views – but it's still a tiny garage and more than twelve views may not make the building more understandable.
What about demolition of the largest lift-span bridge in the western United States? 20 views? 40? 100? In complex recording projects, the significance needs to be balanced with the size of the resource, its context, its complexity and the reason for its designation. In the above bridge example, we captured 40 HAER field-photos and 40 copy-photos of pages of blueprints to tell the story of the bridge's significant engineering, without the blueprint copies we would have needed to do much more detailed field-photography on the bridge. How did we figure that out? Scouting, asking questions and working with an architectural historian to analyze the bridge's significance and character defining features. There is no simple guideline, but working with an preservation expert and/or an experienced HAER photographer can help with this very complex question. Remember the intent is to tell a clear story about the resource, that may mean interiors, context, landscapes, details and possibly even aerials. However the documentation should not be excessive, punitive or disproportionate with the significance of the resource.
How many copies of survey reports are produced for a HABS/HAER/HALS mitigation?

If the documentation package goes to the Library of Congress (LOC) in a formal submission, then 1 set of negatives and 2 sets of prints is customary because the world will have access via the LOC internet site (the second set of prints is transmitted to the SHPO). As far as additional copies to fulfill the mitigation requirements of CEQA it again comes down to SIGNIFICANCE. If the building is the "HP Garage," birthplace of the Silicon Valley, then it's regionally important and every library in the Silicon Valley should have a laser-copy of the report.
Usually local museums are obvious recipients of documentation reports, and libraries, historic societies, state museums, universities, the State Historic Preservation Office (SHPO) and even advocacy groups if they have an archive. More complex or unique records like railroad or Native American resources, should also be sent to specialty archives like a railroad or tribal archive. But again, don't require numerous copies if the significance is minimal or just local, because the negatives and prints are expensive to produce. Most HABS-Like documentations we have completed require one set of negatives to a primary repository such as a state or regional library or museum, and one or two print-only copies to local repositories.
We suggest archival laser-copies for the historic societies, local libraries, and planning departments since they're not set up to take delicate original prints or negatives anyway. It would be fabulous to see these reports as PDF's on the web too but the idea of perpetual online access is much easier than the reality of posting and maintaining and site, updating links, making backups and hosting those digital documents FOREVER.
How do I hire a HABS / HAER / HALS photographer?
Large documentation projects can be quoted directly by phone or RFP. It is advisable to consult a HABS professional (historian, preservation planner, photographer) to help with a documentation RFP. Be sure to establish requirements for format: 4x5 or 5x7. How many views? (this can be changed after contracting, but lets competing photographers bid apples to apples on the RFP) Access restrictions, safety and security issues should be clear. As a HABS photographer we ask relevant questions about: Location constraints, hours of operation/access, electricity on site, 4 wheel drive requirements, generators, lighting, traffic on roads and bridges, homeland security, safety equipment, aerial views, temperatures, snow and rain, deadlines, deliverables, lodging, and site specific questions. When calling a photographer or creating a RFP it is great to have ready answers to these questions.
Can any photographer do a HABS?
Theoretically yes, large format cameras, lenses and equipment can be rented in many large cities and thousands of photographers have experience with large format cameras. However the exacting specifications for recording HABS/HAER/HALS surveys (26 pages) are complex and it takes time to master the logistics, field notes and maps, darkroom work, archival washing and printing, and the intricate post-production to Secretary of the Interior's Standards for Architectural and Engineering Documentation. Many photographers also do not want to sign away copyright to their photographs and put them into the public domain (required). Therefore there are only a handful of photographers in any region with experience doing HABS/HAER/HALS surveys (Photographers that speak the language). When we look at survey photos by a first-timer (including our first time) we inevitably see a lack of context photos... so stepping back across the street and capturing the neighborhood is our first advice. A experienced HABS/HAER/HALS photographer knowledgeable about historic construction, engineering and architecture that is expert in historic resources will produce the most complete documentation in the least amount of time. Suggested reading for photographers: Recording Historic Structures (Photo section by William L. Lebovich) (2nd edition), National Park Service. A Record in Detail by Jack E. Boucher. Industrial Eye by Jet Lowe. And A Constructed View by Julius Shulman (Our hero.)
Do HABS prints need to be done in a darkroom?
An in-house darkroom allows us to turn projects around faster and keeps the negatives from being shipped for printing, but the 2011 guidelines for HABS/HAER/HALS now allow digital print cards to be printed with archival carbon-pigment digital printers. The resource is still recorded on large-format film and the film processed and archivally washed as before. Then, instead of being contact-printed in a wet-darkroom, the negative is scanned on a back-lit scanner, the image is inverted and formatted in Photoshop, and printed on a pigment ink-jet printer. This may not save any time, but allows photographers without wet-darkrooms to complete documentations. Digital print cards may also be less costly when large numbers of document copies need to be produced (over five original sets).
Does a site need to be on the National Register to be included in HABS?
The resource documented should be historic (that implies "significant" and not just old). However sites do not need to be registered on the National Register of Historic Places or a National Landmark to be documented. The HABS/HAER/HALS collection seeks to record "A Complete Resume of the Builders' Art", including folk and vernacular examples of historic resources. The best way to ensure a resource is viewable as a public benefit is to record it on large format film to HABS/HAER/HALS specifications and donate the record to HABS using their simple short-form. Contact the relevant division of Heritage Documentation Programs in Washington DC; they are very helpful and welcome the generous contributions of photographers.
What does a solid documentation mitigation look like?
In order to facilitate the creation of thorough mitigations that are easy to scope we have created a template of a generic HABS documentation for anyone to use. It lists the most important aspects and details specifics like timeframes and who is responsible for the mitigation. It is linked here as a PDF, or search "MITIGATION OF CULTURAL RESOURCE IMPACTS THROUGH DOCUMENTATION."
PDF > MITIGATION THROUGH DOCUMENTATION SUGGESTED TEXT
---
---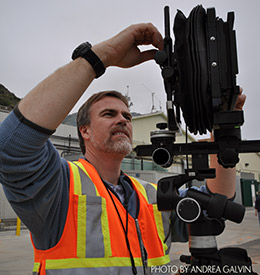 Stephen Schafer specializes in architectural photography of historic structures. Employing 25 years of experience, coupled with the unique equipment requisite to create photographs of "really big things" in often difficult locations and from unique vantage points. Ready to complete photographic records for local, state, and federal programs, requiring 8x10, 5x7, 4x5 or digital formats for any project from billboard size prints to strict Library of Congress specifications. An architectural HABS, HAER and HALS photographer with an understanding of historic structures, based in California and serving the Western United States.
---
---
Table of Contents:
• HABS/HAER/HALS
• IRS PRESERVATION TAX CREDIT PHOTOGRAPHY
• CITY OF LOS ANGELES – MILLS ACT PHOTOGRAPHY REQUIREMENTS
• SURVEY LA – DIGITAL PHOTOGRAPHY STANDARDS
• CITY OF LONG BEACH – DOCUMENTATION STANDARDS
•

ILLINOIS HISTORIC PRESERVATION AGENCY'S - IL HABS/HAER STANDARDS
• AUSTRALIA, NEW SOUTH WALES –PHOTOGRAPHIC RECORDING of HERITAGE ITEMS
• U.K. - English Heritage, Metric Survey Specifications
• FEMA PHOTOGRAPHIC DOCUMENTATION
HABS / HAER / HALS
The Historic American Buildings Survey (HABS), the Historic American Engineering Record (HAER), and the Historic American Landscapes Survey (HALS) are the national historical, architectural, engineering and landscape documentation programs of the National Park Service.
So important that they deserve a page of their own!
HISTORIC TAX CREDIT PHOTOGRAPHY STANDARDS
United States Department of the Interior
Historic Preservation Certification Application
General information on Part 2 photographic requirements: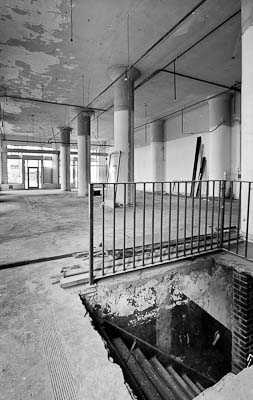 Photographs: The applicant must submit a sufficient number of good, clear photographs with Part 2 to document both interior and exterior conditions, including site and environment, prior to any rehabilitation work and to show the areas of proposed or completed work. Photographs of "before" conditions must be submitted even if the rehabilitation is completed; such documentation is necessary for the NPS to evaluate the effect of the rehabilitation on the historic structure. Where such documentation is not provided, review and evaluation cannot be completed, resulting in denial of the requested certification. Elevations and interior features and spaces of the buildings should be shown. Photographs should be numbered, dated and labeled with the property name, the view (e.g. east side) and a brief description of what is shown; photographs should be keyed to the application narrative, where appropriate. In many cases, it may be helpful to mark directly on the photographs the areas of proposed or completed work. Photographs may be black and white or color, but must show architectural features clearly. For clear documentation, 35 mm photographs are recommended. Photographs are not returnable. Check with the SHPO about whether or not a duplicate set of photographs is required for state files.
HABSPHOTO notes: Two sets are needed in California: one for SHPO, and one that SHPO will forward to NPS (and in many cases one for the client and/or consultant 's files.
o In California, photographic documentation submitted with applications should be in the form of conventional 35mm color photographs. (35mm film camera, color negative film, glossy 4x6 prints)
o Photographs must be labeled on the back with the following information: address and building name (if applicable), view (e.g. north side), and description (e.g., plaster damage in dining room, north wall).
o Photographs must be numbered and keyed to the description of proposed work on the Part 2 form and keyed to a plan(s) of the building.
o Applicants must use their own judgment as to how many photographs adequately "tell the story" of their building. Larger projects require more photographs to provide detail shots or to illustrate the various elements and areas of a large building or complex.
o Despite the popularity and increasing sophistication of digital photography, NPS has found that digital photographs generally do not provide the level of detail or clarity required for review.
o Photocopied photographs and instant photographs are not adequate for review. If an applicant cannot supply better photographs, the SHPO and the NPS may not be able to evaluate an application, and the application may be denied certification of rehabilitation.
1. Several photographs of the site and setting of the historic structure(s). This should include photographs taken both up close, showing the individual property site, and from a distance, showing the street setting of the structure(s).
2. At least one photograph of all existing elevations showing the entire elevation. This includes all structures affected by the proposed rehabilitation, such as carriage houses and outbuildings. Elevations that are partially blocked by adjacent structures or trees may require photographs to be taken from several different angles or locations to completely document these elevations.
3. Detailed close-up photographs are needed of specific architectural features affected by the rehabilitation, such as windows, doors, balustrades, trim, etc. Submitting several representative photographs of multiple features, such as windows, is acceptable providing the photographs submitted adequately represent the condition throughout the structure.
4. Photographs of all interior spaces should be taken with a wide-angle lens from diagonally opposite corners of the room. This includes all interior spaces affected by the rehabilitation. If like spaces or rooms exist, such as floor after floor of warehouse space, then submitting several representative photographs documenting the condition throughout the structure is acceptable.
The above excerpt is not comprehensive, but it does provide an overview of what is expected by for the Part 2 Photographic Documentation. It is important to be aware of is that the Part 2 Photographic Documentation will be the primary record of the project as the tax credit project proceeds. The State Preservation Architect at OHP may or may not visit the site, but the NPS reviewer is located in Washington D.C. and very seldom visits a distant project sites, therefore, the photographs will be the common visual reference when questions arise concerning the buildings condition during rehabilitation work. As Tim Brandt at the California OHP told me, "I get on the phone with Washington and we spread the photos out on a table and go over them together."
The information below is not intended to be prescriptive so professional judgment will be needed to assure that the objectives of the Part 2 documentation are met. The photographer will also need to use good judgment in determining the number of photographs needed to fully document the site. Since all photos will not be used, photographs should first be provided to the consulting team on proof sheets (or single set of 4x6 Prints) from which a sufficient number can be chosen to best document the project. (HABSPHOTO note: if there will only be a small number of prints culled from the complete recordation of a building, the photographer may want to have all prints printed at the time of developing to save money; then discard the few prints that will not be sent, as original first-run prints are less expensive than reprints. In case of reprints, have the negatives rolled, not cut into sections of 4 frames.)
Photos are needed of the site and its environment, shots should include:
Distance shots including at least two perpendicular elevations with surrounding setting.
Courtyards and details of courtyard furniture and decorative plaques.
Streetscape and building frontage on streets, alley ways or vacant property.
Immediately adjacent structures or vacant properties.
Site of proposed new development.
Photos are needed of existing conditions and character defining features:
Panoramic shot of the roof and each of the four elevations (if possible) if not overlapping sections with clear transitions.
Close up shots focusing on portions of the façade with major architectural projections such as the north or south wing of the primary elevation.
Shots of major architectural details such as entry doors and surround, balconies, and third story colonnade.
Details of any unique windows, chimneys, or openings.
One shot of typical details, repeating windows, grills, corbels, pilasters, lighting fixtures and doors.
Photos of all area that will be affected by proposed work.
Shots of condition issues: broken, water damaged, missing features, deferred maintenance, and incompatible replacement or repairs.
All exterior fixtures and equipment attached to or in proximity to the structure.
---
CITY OF LOS ANGELES – MILLS ACT PHOTO GUIDELINES
2011 Mills Act info here: http://www.preservation.lacity.org/node/464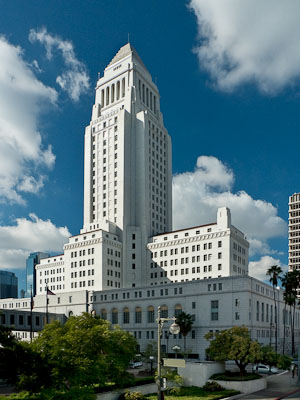 Photography/Property Visual Documentation
Black and white photographic prints of the entire property; include both exterior and interior spaces and features. The set of images shall include at least two full-room views of each room (generally one image taken from opposing corners is sufficient) and as many views of architectural details necessary to document the character defining features of the structure(s) and site. Include images of any original hardscape or landscape features and the existing conditions of all yards/open space that are part of the property. Images may be digitally obtained and printed onto high quality photo paper in 3 x 5, 4 x 6 or multiple image letter sized sheet format. There shall be one 8 x 10 printed image of the overall structure/property (view that best captures the property – e.g. front facade). 3 x 5 or 4 x 6 prints shall be loose/bound with a rubber band. For larger properties, organize the photographs in a binder using plastic sleeves or photo guards.
Photographic images may be printed onto letter sized paper (maximum of four images per page – single sided) with each image labeled according to view and content. Each page shall also identify the property address, date of photographic images and photographer. Individual photographic prints shall have mailing sized labels affixed to the back side, upper left-hand corner of each print. The labels shall contain the identification of the room or subject, property address, date of image and photographer. All labels shall be printed.
Traditional photographic prints shall be accompanied by a set of 35mm negatives. Digital images shall be submitted on a compact disc, in addition to the printed images. Disc images may be in color – all printed images shall be in black and white.
Download the 2011 Mills Act info here: http://www.preservation.lacity.org/node/464
If you have any further questions, contact:
Lambert Giessinger, Architect
Historical Property Contracts Manager
City of Los Angeles Office of Historic Resources
City Hall, Room 620
200 N.Spring Street
Los Angeles, CA 90012
Tel. (213) 978-1183
lambert.giessinger@lacity.org
---
SURVEYLA General Guidelines for Photographing Individual Resources and Historic Districts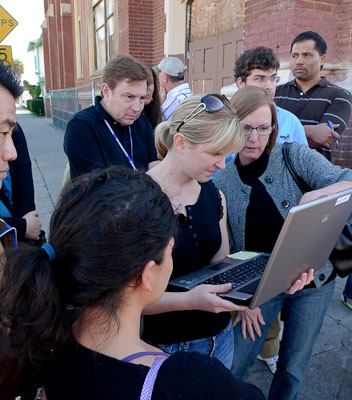 ●STAY in the public right-of-way. No trespassing onto private property.
●Position the camera to avoid trash containers, litter, people, animals, car mirrors, car windows and reflections, surveyor's hats, arms, hands, fingers, etc.
●Take one photograph of every resource recorded, even if the resource is not visible behind walls, landscaping, etc.
●Try to fit any related features (i.e. garages, landscape features) in the frame with the primary resources. Take additional photos only when absolutely necessary.
●Try to keep the resource front-lit. Keep the sun over your shoulder whenever possible, and plan your survey route accordingly.
●When photographing buildings, remember the acronym FRoWSE, which stands for Foundation, Roof, Windows, Siding, and Entrance. Try to capture as many of these elements within the frame as possible.
●Take photographs of resources from an angle (oblique - two sides). This way, you capture valuable information about the size and depth of the resource.
●Let the resource fill as much of the frame as possible while still giving the resource context fill the frame 80% with the resource.
●When recording historic districts, in addition to photographing all contributors take context views to include representative streetscapes which show the relationship of the buildings to each other, setbacks, building heights, landscape and hardscape features, etc. To facilitate efficiency in the field, SurveyLA methodology calls for context views and photos of non-contributing buildings to be taken by volunteers.
●While you may need to provide some written information about the photo (i.e. if only part of a building is visible from the public right-of-way you may need to explain the view) do not spend excessive time writing photo descriptions.
1. Photos will be taken both by professional field surveyors (i.e. historians and architectural historians) as well as volunteers/interns.
2. We hope to have minimal time spent on photography. There are 880,000 parcels in LA so surveys will need to proceed quickly.
3. One of the purposes in using WiFI is to avoid taking time to name photos in the field (automatically tied to the parcel)
4. I think we are generally looking at one photo per resource so we need to give instructions to get the best photos in the least amount of time.
5. I like your suggestions for giving recommendation on how to proceed methodically in a historic district.
6. Architectural historians rarely think about lighting considerations (time of days, sun, shade)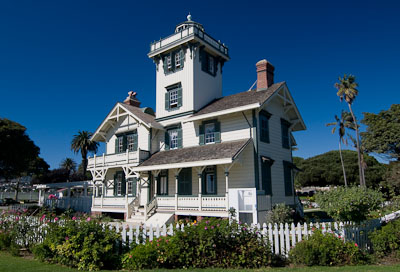 Note: Suggest that surveyors NOT make obvious the fact that they have expensive equipment. Sometimes it may be wise to downplay your dress, however on busy streets surveyors should always be in teams and may wish to wear NEON safety vests. Early morning may be the best time to survey residential neighborhoods, because people are still asleep. Sometimes it is faster to photograph single houses in neighborhoods from across the street, and then walk back and do the data-input part of the survey on the tablet.
Digital, 4+ Megapixels. (Best if lens is wide-angle 24 to 28mm) (extra battery)
Digital camera menu settings:
4 to 5 Megapixel resolution setting. ( If your camera shows size in pixels, set it between 2100 and 2700 pixels in the long dimension.)
Jpeg compression setting: High (fine) (large) Quality setting for jpegs.
Most teams are using cameas that record to SD cards.
Transfer from camera to PC via card reader. (USB external, plug-in type card reader or built-in SD reader in some tablets.)
(2 memory cards recommended)
The target photo resolution and compression is a high-quality Jpeg with little compression that has about 2000 pixels resolution along the long edge. ( aprox 2000 x 1300 pixels horizontal or 1300 x 2000 pixels vertical.)
The jpeg would ideally be 1 Megabyte saved (compressed), and would decompress to a file of 7 to 8 Megabyte
s when opened in Photoshop.
Stephen Schafer was honored to create the photographic guidelines for SurveyLA, the online tutorial is here on our website.
---
---
STANDARDS FOR DOCUMENTING RESOURCES IN THE CITY OF LONG BEACH, CALIFORNIA
Excerpt from CITY OF LONG BEACH (Historic Documentary) PHOTOGRAPHIC REQUIREMENTS (2007)
For additional and updated information contact the
City of Long Beach, Office of Historic Preservation at 562-570-6864.
1. Types of photographs to include:
b. Photographic copies of historic photographs, drawings, paintings, etc.
c. Photographic copies of original drawings (architectural/engineering plans construct the building or structure).
a. Black and white, fine grain (under 400 ASA). Digital format is acceptable.
Photographs and Photo Index must also burned onto a CD.
a. Large format, if required pursuant to specific mitigation measure or other
agreement or condition of approval.
b. 35 mm format acceptable for most other recordation requests. Camera with lens that
does not significantly distort perspective should be utilized. Quality digital cameras are
acceptable. (this should read digital SLR cameras over 10MPx)
e. Use of filters that reduce glare and sharpen contrast are encouraged.
a. Prints should be at least 4x6 inches, preferably 5x7 or 8x10, depending on the
anticipated use of the prints and the budget available for the documentation project.
b. Prints should be made with double or medium weight paper having a glossy or satin finish.
c. Prints should be thoroughly washed to eliminate residual chemicals.
6. Photographic coverage:
Photographs should be taken of the overall property and the exterior and interior (if historically
important) of each building on the property, including old and new outbuildings. The number of
interior and detail views will depend on the significance of those aspects of the building(s). The
following photographs should be taken to document the property:
d. Other views of dependent structures are intended to provide information on associated
structures and their relationship to the property overall.
e. Photographic Copies of Photographs, Drawings, and other Graphics
---
THE ILLINOIS HISTORIC PRESERVATION AGENCY'S STANDARDS AND GUIDELINES
HISTORICAL, ARCHITECTURAL AND ENGINEERING DOCUMENTATION:
IL HABS/HAER STANDARDS Full Details at : http://www.state.il.us/hpa/ps/habshaer.htm
Illinois Historic American Buildings Survey/ Historic American Engineering Record Preservation Services Division Illinois Historic Preservation Agency Springfield, Illinois 62701
January 1999
Illinois Historic Preservation Agency
(IL HABS/HAER) Program of documentation of historic buildings, sites, structures, and objects located in the State of Illinois.
IL HABS/HAER Documentation includes measured drawings, large-format photographs, and written contextual histories and descriptions. The Illinois State Historical Library Archives is the repository for these documents.
PREFACE
This document outlines the Illinois Historic Preservation Agency's Preservation Services Division's Standards for Historical, Architectural and Engineering Documentation --commonly known as the IL HABS/HAER Standards.
These performance standards define the criteria for IL HABS/HAER projects acceptable for accession in the IL HABS/HAER Collection located at the Illinois State Historical Library Archives.
Acceptable IL HABS/HAER documentation often includes:
Measured Drawings
Large-Format Photographs
Detailed Historical Context Development and Physical
Descriptions in a Prescribed Written Outline Format
These standards are intended to be used in conjunction with the accompanying guidelines for historical, architectural and engineering documentation. Other publications listed in the bibliography should be consulted.
These standards will be used:
In preparation of documentation to fulfill mitigative requirements in accordance with the Illinois State Agency Historic Resources Preservation Act and Section 106 of the National Historic Preservation Act of 1966, as amended. In preparation of voluntary documentation to be submitted for inclusion in IL HABS/HAER Collection.
(1999) ILLINOIS HISTORIC AMERICAN BUILDINGS SURVEY/HISTORIC AMERICAN
ENGINEERING RECORD (IL HABS/HAER) PROGRAM STANDARDS
for
HISTORICAL, ARCHITECTURAL AND ENGINEERING DOCUMENTATION
The IL HABS/HAER Standards address the development of documentation for historic buildings, sites, structures, and objects. IL HABS/HAER documentation provides relevant graphic and written information on a property's significance for use by scholars, researchers, preservationists, architects, engineers, and others interested in preserving and understanding historic properties. IL HABS/HAER documentation is important for several reasons. It provides for accurate repair or reconstruction of part
s of a property, records existing conditions for easements and preserves information about a property that is to be demolished or altered.
The IL HABS/HAER Standards are intended for use in developing documentation to be included in the IL HABS/HAER Collection located at the Illinois State Historical Library Archives. The Illinois Historic Preservation Agency has defined specific requirements for meeting these standards.
STANDARD 1: Documentation Shall Adequately Explicate and Illustrate What is Significant or Valuable About the Historic Building, Site, Structure, or Object.
The historic significance of the building, site, structure, or object identified in the evaluation process should be conveyed by the drawings, photographs, and written materials that comprise the documentation. The historical, architectural, engineering, or cultural values of the subject property, in conjunction with the purpose of the documentation, will determine the level and methods of documentation.
STANDARD 2: Documentation Shall be Prepared Accuratelv from Reliable Sources with Limitations Clearly Stated to Permit Independent Verification of the Information.
The purpose of documentation is to preserve an accurate record of historic properties that can be used in research and other preservation activities. To serve these purposes, the documentation must include information that permits assessment of its reliability.
STANDARD 3: Documentation Shall be Prepared on and Submitted in Materials that are Readily Reproducible, Durable, and in Standard Sizes.
The size and quality of documentation materials are important factors in the preservation of information for future use. Selection of materials is based on the length of time expected for storage, the anticipated frequency of use, and a size convenient for storage and document management.
STANDARD 4: Documentation will be Clearly and Concisely Produced.
In order for documentation to be useful for future research, written materials must be fully developed, legible and understandable. Graphic materials must contain scale information and location references.
(1999) ILLINOIS HISTORIC AMERICAN BUILDINGS SURVEY/HISTORIC AMERICAN
ENGINEERING RECORD (IL HABS/HAER) GUIDELINES
for
HISTORICAL, ARCHITECTURAL AND ENGINEERING DOCUMENTATION
Introduction
The IL HABS/HAER Guidelines link the IL HABS/HAER Standards for Historical, Architectural and Engineering Documentation with more specific guidance and technical information. They describe the general approach for meeting the Standards for Historical, Architectural and Engineering Documentation. Agencies, organizations, and individuals proposing to undertake the production of IL HABS/HAER Documentation in a different manner will need to review and gain approval of their strategy with the IHPA IL HABS/HAER Coordinator prior to the execution of a contract for or the initiation of production of IL HABS/HAER Documentation.
The Guidelines are organized as follows:
Definitions
Goal of Documentation
The IL HABS/HAER Collections
Standard 1: Content
Standard 2: Quality
Standard 3: Materials
Standard 4: Presentation
Goal of Documentation
The IL HABS/IL HAER Program is the historical, architectural and engineering documentation program of the Illinois Historic Preservation Agency that promotes the incorporation of accurate graphic and written documentation into the IL HABS/HAER Collection located in the Illinois State Historical Library Archives. The goal of the IL HABS/HAER Collection is to provide historians, architects, engineers, scholars, and interested members of the public with comprehensive documentation of buildings, sites, structures, and objects significant in Illinois' history.
IL HABS/HAER Documentation often consists of measured drawings, photographs, and written data that provide a detailed record of a property's significance. Measured drawings and properly executed photographs act as a form of insurance against fires and natural disasters by permitting the repair and, if necessary, reconstruction of historic structures damaged by such disasters. IL HABS/HAER Documentation is sometimes used to provide the basis for enforcing preservation easements. In addition, IL HABS/HAER Documentation is often the last means of preservation when a historic property is to be demolished or permanently altered. IL HABS/HAER Documentation provides future researchers access to valuable information that would otherwise be lost.
IL HABS/HAER Documentation is developed as a result of two separate catalysts. First, the Illinois Historic Preservation Agency, pursuant to the Illinois State Agency Historic Resources Preservation Act (20 ILCS 3420/1 et seg] and Section 106 of the National Historic Preservation Act of 1966, as amended, requires recordation of historic properties to be demolished or substantially altered as a result of adverse undertakings conducted on those properties (referred to as mitigation projects). Secondly, individuals and organizations, on their own initiative, can prepare documentation according to IL HABS/HAER Standards and donate that documentation to the IL HABS/HAER Collection. Required Documentation Levels will vary.
IL HABS/HAER Standards describe the fundamental principles of the development of IL HABS/HAER Documentation. The IL HABS/HAER Guidelines listed under each of the following IL HABS/HAER Standards provides basic information about developing documentation for the IL HABS/HAER Collection. The IL HABS/HAER Guidelines are augmented by more specific graphic and written documentation requirements which are included here as supplemental information. Additional specific information concerning the production of IL HABS/HAER Documentation is included in a separate document entitled IL HABS/HAER Program/Technical Commentary.
Documentation prepared for the purpose of inclusion in the IL HABS/HAER Collection must meet the requirements listed below. The IHPA IL HABS/HAER Coordinator retains the right to refuse documentation for inclusion in the IL HABS/HAER Collection when that documentation does not meet IL HABS/HAER requirements specified in this document.
Effective Date: 21 January 1999
---
PHOTOGRAPHIC RECORDING OF
HERITAGE ITEMS USING FILM OR DIGITAL CAPTURE
New South Wales, Australia.
Find the full 43 page PDF here: http://www.heritage.nsw.gov.au/docs/info_photographicrecording2006.pdf
or here: http://www.heritage.nsw.gov.au/03_index.htm
Excerpt from:
PHOTOGRAPHIC RECORDING OF HERITAGE ITEMS USING FILM OR DIGITAL CAPTURE
(This document was prepared in 2006 based on the Guidelines for Photographic Recording of Heritage Items produced for the Heritage Office in 1994)
FILM-BASED PROJECTS
• Three copies of the photographic report including catalogue sheets, photographic plan, supplementary maps;
• B&W materials: One set of archivally processed and numbered B&W negatives
stored in archival sheets or envelopes. Three sets of archivally processed proof (contact) sheets,
labelled and cross-referenced to the catalogue sheets;
• Colour materials: Three sets of colour transparencies (either original transparency
plus two duplicates or three original images taken concurrently) numbered, labelled and cross-referenced to the catalogue sheets and stored in archival slide sheets.
DIGITAL PROJECTS
•Three copies of the photographic report including catalogue sheets, photographic plan, supplementary maps;
• Three sets of thumbnail image sheets (e.g. A4 page with six images by six images) showing images and reference numbers. The thumbnail sheets should be processed with archivally stable inks on archivally acceptable photographic paper and cross referenced to catalogue sheets;
•Three copies of CD or DVD containing electronic image files saved as TIFF files with associated metadata, and cross-referenced to catalogue sheets;
• One full set of 10.5x14.8cm (A6) prints OR, if a large project, a representative set of selected images processed with archivally stable inks on archivally acceptable photographic paper.
PHOTOGRAPHER'S REQUIREMENTS
The photographer undertaking the recording of a heritage place needs to have:
• Requisite training, skills and equipment to undertake heritage assignments;
• Awareness that heritage sites and surrounds often have a range of hazards, which have to be considered in undertaking the photography, including: Dangerous substances, confined spaces, demolition activity, adverse environmental and weather conditions, moving machinery and vehicles, noise, dust, overhead hazards, remote locations, working at height, or over, near, on, in or under water, public liability insurance, as well as workers compensation Insurance.
• Photographer needs to visit the site prior to commencing the project. Preferably this should be with someone who has an understanding of the heritage photographic project. This allows the photographer to assess what photographic equipment is required, as well as being able to assess the site's safety requirements;
• access to safety clothing such as safety helmet, safety glasses, ear protection, highly visible safety vest, steel-toed boots or shoes. The
client may have requirements for additional safety equipment for the photographer if working at heights or over or near water;
• materials for recording and documenting the photographic undertaking including such things as notebooks, pens, pencils, maps, torches and
a compass;
• personal items such as sunscreen and insect repellent.
EQUIPMENT – FILM-BASED RECORDING
CAMERAS
35mm Single Lens Reflex (SLR) Camera: This is the most popular and versatile camera format and, when combined with quality lenses, is entirely adequate for most heritage photography. Medium Format Cameras: Medium format cameras, especially SLR systems, are often used. However, these cameras are generally heavier and less versatile for field work than 35mm SLRs. The format is ideal if large, quality enlargements are required. Some types have interchangeable backs allowing one camera body to be used with different film types. Large Format Cameras: Large format cameras are for specialized use, such as architectural photography, and are best when a slow and studied approach can be undertaken. Their bulk restricts their use in the field.
BLACK AND WHITE FILM AND PROCESSING
Black and white film, if properly processed and stored, is the preferred medium for archival recording. Slow and medium speed black and white films, 50 – 125 ISO, are preferred, although faster films, 400 ISO or faster, may be required under low light conditions. Black and white films designed to be processed using the chromogenic C-41 process are not acceptable because they are not sufficiently stable and are unsuitable for long term storage.
PROCESSING FILM FOR LONG-TERM STABILITY
Careful processing of the negatives under clean and controlled conditions is the first step in achieving optimum long-term stability. This includes developing and fixing of the image followed by washing and drying of the negatives… Film processing should be done by professional laboratories or by the photographer, if they have darkroom facilities. Either resin-coated or fibre-based photographic papers can be used. Optimum permanence is achieved with fibre-based papers… Long-term stability with fibre-based paper is ensured by adequate fixing and washing.
COLOUR TRANSPARENCY FILM AND PROCESSING
Colour transparency film (colour reversal film or colour slide film) should be taken, as well as black and white, because it provides colour information about the heritage item. Also, it can be digitally scanned and used in electronic presentations. The long-term stability of modern colour transparency film has improved considerably, although black and white is still the most stable, Processing (E6 chemistry). Colour Negative Film or Prints Colour negative or print films using chromogenic C41, processing are not acceptable for heritage recording as their longevity is poor and they do not meet the permanence standards. Colour negatives and prints often fade, lack the detail and sharpness of colour transparency film, and have restricted contrast and colour range.
DIGITAL CAMERAS
35mm Single Lens Reflex (SLR) Digital Camera As with film photography this is the most popular and versatile camera format. Again, when combined with quality lenses and a range of accessories, the 35mm digital SLR camera is very suited to most heritage photography needs... the most suitable ones for heritage photography should have the following specifications:
• 8 megapixels or more resolution.
A good quality 8 MP digital SLR camera can produce high quality prints which are suitable for most heritage studies. If larger images or prints are required cameras with a 10 MP or more may be needed.
IMAGE FILE SIZE, FORMAT AND DIGITAL IMAGE MANAGEMENT
Heritage photography requires quality images and the photographer needs to make choices about image sizes, compression, and file formats. These choices determine the image quality and image file size. The photographer should undertake the following:
• photograph at the highest quality;
• record image in RAW format to capture the maximum amount of information; and
• provide client with a copy of the image in RAW format and a copy converted to TIFF format, a universal format.
• DO NOT save images in JPEG format as this uses lossy compression which degrades the image to some extent.
There are a number of software packages which can be used to sort, label and file captured images. The labelling should relate to the specific project and to the catalogue sheets.
PHOTOGRAPHIC METHOD
Every photographer has an individual technique. When photographing for the purpose of making an archival record, however, it is the information content rather than the artistic effect which is paramount. Photographs of a particular scene should be uncluttered with extraneous material and should emphasize the subject. The photographer should be aware of all plans and documentary evidence available on the place and should have an understanding of its history and operations. This is especially important with industrial sites. Without this knowledge significant items may not be treated appropriately. If necessary, the photographer should be accompanied on the site by a person familiar with the site's heritage significance and the processes related to it. The preferred shooting method is to proceed from the general to the specific.
SCALE RODS AND MEASURING STICKS
It may sometimes be useful to include a measuring stick placed in the plane of the photograph's subject which will serve as an indication of the relative scale. (Note: this will be essential for an archaeological excavation, but may not always be practical or necessary for other kinds of photographic recording.) For large scale photographs the stick or rod should be similar to a field surveyors levelling staff, at least one meter long calibrated in bands from 10mm to 1,000mm wide. For photographs of smaller details prepare a ruler approximately 300mm long with calibrations from 1mm to 10mm. The
markings on the scale rods must be bold to be able to be read in the print or slide.
RECORD OF PHOTOGRAPHIC METHOD
Photographic records are taken on behalf of a client and it is essential that the client, or the client's representative, is able to review the catalogue and be satisfied that the coverage is complete.
PHOTOGRAPHIC CATALOGUE
Each image must be catalogued. By adopting a set sequence the catalogue recording is much simpler. With film it is normal to assign a number or alphabetical prefix symbol to each type of film, then to number each roll of film and finally to number each frame. Digital images have a unique image file number. It is normal practice to have a catalogue sheet and enter as much information as possible in the field. Further annotation may be made off-site if required. This may be done when the images are available to be viewed or it may be done simply by reference to the original field notes. The catalogue sheet is then typed. The typed version then becomes the image catalogue. In the case of film this is stored with the negatives and all copies of the contact sheets. With digital recording the catalogue sheet should be stored with the 'thumbnail' image sheet and the CD-R disc.
PHOTOGRAPHIC TECHNIQUE
CONTEXT PHOTOGRAPHS
Each site, place or movable item or collection should be recorded in its context. This means that the surrounding landscape with the site and structures in it should be photographed from several distant points. Buildings, rivers, landform and other items should be included and their relationship with the subject defined. Photograph the site, room or space where movable items are located and show how the items relate to each other and their setting. In some cases this will require 8-10 images.
RELATIONSHIP OF BUILDINGS ON SITE TO EACH OTHER
The spatial relationship of each structure to another, and to surrounding buildings or structures should be shown. This will allow functional connections to be recognized. Quite often, this can be done by placing the camera where four or five buildings are in view and taking a series of images radiating from the point where the photographer is standing. On a complex site five or six positions may be required before each building is defined in its relationship with those surrounding it. In other cases, one or two shots are all that are required.
INDIVIDUAL BUILDINGS OR STRUCTURES
External images should be taken of each façade with a perspective control lens or a telephoto lens where possible. Wide angle lenses tend to distort the perspective of building facades.
The detail of each façade should be approached in a logical manner usually working from the upper left-hand corner to the bottom right. Details such as eaves, soffits, rainwater heads, downpipes, window reveals and sills, doorways and steps, and balustrades will require individual treatment. Where individual features are outstanding because of their form, texture, historic nature or condition, several images of one item may be necessary. This may include images taken from a distance as close as a few centimeters, in which case a macro lens will be required.
INTERNAL SPACES
Internal spaces of an individual building are usually more complex. Here knowledge of the operation of the space is essential. Images should be taken in a sequence to show all internal elevations, including floors and ceilings, where possible. Special attention should be placed on structural elements, fittings and any movable items. Do not forget spaces which are difficult to get to, such as the roof, basements, shafts and underfloor spaces.
http://www.heritage.nsw.gov.au/03_index.htm
---
The Metric Survey Specification for English Heritage
Published 2000, reprinted 2003
FULL DOCUMENT: http://www.english-heritage.org.uk/publications/metric-survey-specification/
An excerpt from English Heritage Specifications
4.2 PHOTOGRAMMETRIC AND ORTHOPHOTOGRAPHIC SURVEYS
All stereoscopic imagery is to be provided by image platforms specifically manufactured or adapted for the c1ose-range application of photogrammetry. Unless otherwise stated in the project brief, the use of glass-plate film is rejected for metric survey work for English Heritage.
4.2.2 Film-based platforms Where 'metric' and/or 'semi-metric' platforms are proposed, these must have:
• An image format greater or equal to 60mm x 60mm
• A fixed focus lens that displays minimal distortion. This is to be calibrated to provide a precise focal length measured to within 0.0 Imm and the precise distortion characteristics measured to enable compensation to occur during any later processing. A copy of the calibration report is to be provided along with the final survey materials. Details of proposed cameras and lenses are to be provided with the method statement for each survey
• A reseau plate with at least four fiducial marks visible per image
• A film transport system that provides a suitable flatness for each image exposure and will fulfill the stated tolerances for image restitution during later processing
4.2.3 Exposure of fiducial marks
Where practicable all available fiducial marks should be equally exposed and visible upon each image acquired on site. This is particularly important where the chosen image platform does not have self-illuminating fiducial marks. Where fiducial marks have not been correctly exposed, the achieved accuracies of orientation are to be noted for each affected stereo-model during any later processing work. Where these may lead to orientation residuals being outside of the standard tolerances, the English Heritage Metric Survey Team is to be contacted to agree any necessary variation prior to processing the affected stereo-model.
4.2.4 Film-based criteria
Where film-based imagery is proposed, it must be taken with appropriate monochrome film and must: Have a fine grain size for high-quality image definition with ISO value of at least 125 or slower for monochrome,
• Be processed to an archival standard as recommended by the manufacturers
Where colour imagery is specified, all the above criteria must be met along with the appropriate balancing of film for either daylight or artificial illumination. A standard colour chart and/or grey scale is to be included in at least one of the images per object area to provide guidance on colour balancing prior to output. The project brief for each survey will indicate where monochrome, colour or transparency film will be required.
4.2.5 Production of positive images (diapositives) for photogrammetry
Film-based negatives after initial development are to be converted into contact positive images for use in any subsequent photogrammetric processing. The primary negative is to be archived in an appropriate sleeve. No photogrammetric processing is to be carried out from the primary negatives or from positives not based upon the contact copying process, unless noted in the project brief.
4.2.8 The use of small-format image platforms
The use of smaller image platforms - below 60mm x 60mm for film-based cameras and sub 4000 x 4000 pixel resolution for digital platforms - is not allowed in the standard specification. If a particular project requires the use of such imagery, this will be specified in the project brief. Full details of camera calibration, lens distortion or pixel resolution (digital only) will need to be provided in the method statement
(4000x4000 pixels is equivalent to a 16 Megapixel digital sensor -SS)
4.2.9 Date and time of exposure
In order to provide proof of when the archive image was actually taken, the date and time of exposure is to be noted within at least one image per object area.This may be a hand-written note placed in the appropriate frame adjacent to the object area being surveyed.
FULL DOCUMENT: http://www.english-heritage.org.uk/server/show/nav.1156
---
---
(Abridged) Overview of FEMA Guidance for Photographing Historic Resources
The Complete FEMA Guidelines can be found Here:
FEMA Photographic Essentials:
Perspective and Elevation Photographs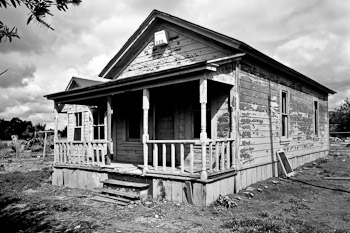 Architectural photographs are of two general types: perspective photographs and elevation photographs. A perspective photograph (oblique)shows two sides of a structure taken at a 45-degree angle thereby documenting its characteristics as a three-dimensional form including size and volume. (In a perspective photograph, the structure should fill about 75 percent of the frame, thereby including some environmental context.) An elevation photograph approximates an elevation architectural drawing and is taken head-on as if it were totally flat. The emphasis on one side of a building as two-dimensional surface makes an elevation photograph more axiomatically correct. (In elevation photographs, the structure should fill the frame, isolating it from its surroundings.)
The minimum camera requirements for this photographic guidance are a 35 mm camera or digital camera. The digital camera should be at least a medium-resolution camera (THIS IS A MEANINGLESS STATEMENT -SS) which constitutes the majority of consumer digital cameras.
A primary requirement of an architectural photograph is that vertical lines that are parallel in the building should be parallel in the photograph. In other words, the outside walls of a structure should not appear to converge toward the top of the photograph making the building look like it is falling over. This is especially important in elevation photographs. Convergence occurs when the photographer tilts the camera backward to get the top of the building in the photograph. To overcome convergence, you should hold the camera so that the back of the camera is vertical, at a 90-degree angle to the ground. This insures that the plane of the film, in the back of the camera, is parallel to the plane of the building.
You should use Kodak Royal Gold color negative film of ASA 200 or ASA 400. Black and White film is found to be much greater archival stability, so for negatives intended for archival storage, the use of black and white film is preferable. Since color information is often more useful for planning and design, the use of a second camera body and the shooting on color and black and white would be ideal. It is now recommended that a complete set of digital images be made when the film is processed, a service that is now often quite common and reasonable. These digital images may not be at the resolution of the film, but they are more useful than film for filing of images in a number of places, and dissemination of images with no loss of resolution.
HARD HATS REQUIRED. Buy your own and keep it in your kit.
THREE FEMA LEVELS OF PHOTOGRAPHIC DOCUMENTATION OF HISTORIC RESOURCES
There are three levels of FEMA photographic documentation. The minimum level is the minimum number of photographs needed to record a three-dimensional built form. The basic level is the type and number of photographs needed to record as much information in as few images as possible, and the expanded level is the type and number of photographs needed to make a complete evaluation of integrity.
The Minimum Level of Photographic Documentation
At a minimum, two perspective (oblique) photographs are required to document a building or structure. These include a photograph showing the front and one side of the building and a second photograph showing the rear and the other side of the building. These two photographs document all four sides of a building. If photographs will be taken in cities and towns where the buildings are at high densities along streets and it is not possible to get a rear perspective. In this situation, the second photograph should be an elevation and a third might be an important architectural detail.
The Basic Level of Photographic Documentation
The most widely recognized guidelines for photographically documenting historic resources are those of the Historic American Building Survey and the Historic American Engineering Record (HABS/HAER) of the National Park Service. For FEMA, the initial survey will probably concentrate on the exterior. Integrity decisions are made of the basis of the exterior for two reasons. The first is because the exterior of an historic resource conveys the most information about the aspects of its integrity. Secondly, and very practically, because in a response phase you will only have time to document the exterior of a resource and will be taking photographs before interiors have been certified as safe to enter. The exterior is also important because a resource cannot have lost its integrity on the exterior and still retain overall integrity.
Based on HABS guidelines, FEMA considers the following views of the exterior essential for architectural structures:
1. General view at a distance sufficient to show environmental setting, landscaping and adjacent buildings, if appropriate
2. Elevation of front façade
3. Perspective view of the front façade and one side;
4. Perspective view of the rear and one side
5. Close up view of the main entrance
Damage to the structure caused by the natural disaster should be evident as part of these views. If you do move in to shoot details of damaged areas, be sure to show how the damage relates to the overall building. If the interior is documented, the following views should the taken:
1. A view from the main entrance looking to the interior of the building.
2. Views of major spaces/rooms including important features such fireplace or mantle (for large spaces such as sanctuaries, factories or barns take diagonal views from opposite corners)
3. Other significant rooms or features as considered relevant to documenting the structure.
Since you will be working under intense time pressure with FEMA – to document as many buildings as quickly as possible – you should approach each structure with this checklist in your mind (of the five basic exterior views and three basic interior views).
When to Expand the Basic Level of Documentation
You should determine whether to expand this basic level of documentation depending on the nature of the structure being photographed and what needs to be documented. For example, two perspective photographs work best on square or rectangular structures with four outside walls. A structure of more complex shape, with more outside walls, such as C-shaped building, will require more perspectives to insure that all of the walls are included in at least one photograph.
The Expanded Level of Photographic Documentation
In doing the walk-around to become familiar with the physical characteristics of a historic property, you also need to evaluate the physical damage – where it is and how extensive it is. You should plan your photography to include both the most damaged part of the building and the part that remains most intact. In order to accomplish this you may need to expand the number of photographs in the FEMA basic guidance. For example, the circular motion of hurricane damage can be so tight that it will take off one corner off of a building while leaving the rest intact. You should try to photograph important features of a building if they have been blown off from wind damage, but still remain partially intact.
Although we will discuss the documentation of aspects of integrity by type of view below, the organization of views at this expanded level are from views of the overall building to the closer views of architectural elements and details moving in a counterclockwise fashion. (As indicated, this is the sequence for detailed HABS/HAER coverage). Each side of the property is photographed from the overall view, such as elevation, to detailed views in the zoom lens manner of looking at a property as discussed above. For documenting integrity, this sequence specifies an approach that can be varied depending on the complexity of the building.
1. Environmental view of the front and right side (looking at property from front) (FEMA Basic)
2. Environmental view of the rear and right side Perspective
3. Perspective view of front and right side (FEMA Basic)
4. Perspective view of rear and left side (FEMA Basic)
5. Elevation of front façade
6. Elevation or perspective of front entrance (FEMA Basic)
7. Perspective or elevation views of architectural elements such as porches or windows
8. Details of materials and/or decoration
9. Elevation of front façade (FEMA Basic)
10. Perspective or elevation views of architectural elements such as porches or windows
11. Details of materials and/or decoration
13. Perspective or elevation views of architectural elements such as porches or windows
14. Details of materials, hardware and/or decoration
15. Elevation of left side
16. Perspective or elevation views of architectural elements such as porches or windows
17. Details of materials, hardware, and/or decoration
Remember, however, that these are guidelines to be modified depending on the building, or structure, and its environment.
"Working a property:" Organizing Documentation with a "Shoot List"
It is essential to organize your documentation according to the FEMA guidance levels and maintain a list of captions of your photographic or digital images. A photo index in which exterior photographs should be listed in the same counterclockwise sequence in which the photographs were taken. Since the final photo index will be organized this way, it makes sense to organize your preliminary "shoot" list in this same manner. A "shoot list" is the list of photographs you plan to take after you have surveyed the building making the circular walk on the outside and walking though it. When doing more than the minimum two-shot documentation, it critical to plan your photographs for three reasons: after you start you can easily forget what you have photographed; once you start shooting you will see views you had not anticipated; and it is the basis for your index and description of views.
The Complete FEMA Guidelines can be found Here: https://www.historicpreservation.gov/web/14501/71