In April 2021, the book by Ken Bernstein and Stephen Schafer was published. It hit number 10 on the Los Angeles Times Best Seller List for hardcover nonfiction on May 9, 2021. The book is available from Angel City Press here: https://www.angelcitypress.com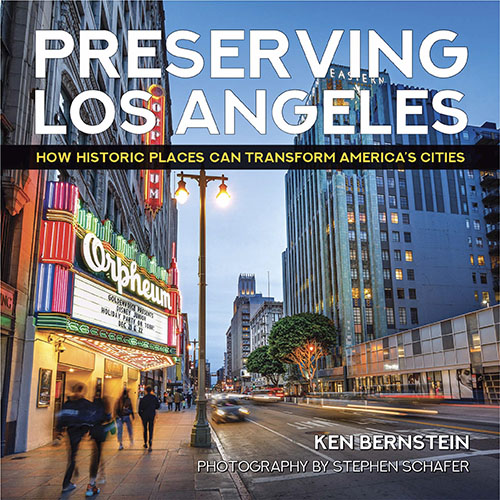 Preserving Los Angeles –

How Historic Places Can Transform America's Cities
by Ken Bernstein
photography by Stephen Schafer
Los Angeles has developed one of the most successful historic preservation programs in the nation, culminating with the completion of the nation's most ambitious citywide survey of historic resources. Across the city, historic preservation is now transforming Los Angeles, while also pointing the way for other cities to use preservation to revitalize their neighborhoods and build community. Preserving Los Angeles: How Historic Places Can Transform America's Cities, written by Ken Bernstein, who oversees Los Angeles's Office of Historic Resources, tells this under-appreciated L.A. story: how historic preservation has revived neighborhoods, created a Downtown renaissance, and guided the future of the city. With more than 300 full-color images, Preserving Los Angeles is an authoritative chronicle of urban transformation, a guide for citizens and urban practitioners alike who hope to preserve the unique culture of their own cities.
Younger than many American cities, Los Angeles has a remarkable collection of architectural resources in all styles, reflecting the legacy of notable architects from the past 150 years. As one of the most diverse cities in the world, Los Angeles is breaking new ground in its approach to historic preservation, extending beyond the preservation of significant architecture, to identifying and protecting the places of social and cultural meaning to Los Angeles's communities.




Preserving Los Angeles illuminates a Los Angeles that will surprise even longtime Angelenos—highlighting dozens of lesser-known buildings, neighborhoods, and places in every corner of the city that have been "found" by SurveyLA, the first-ever city-wide survey of Los Angeles's historic resources. The text is richly illustrated through images by architectural photographer, Stephen Schafer. The photography-heavy appendix devoted to SurveyLA, can serve as a field guide to hundreds of the city's most notable locations.